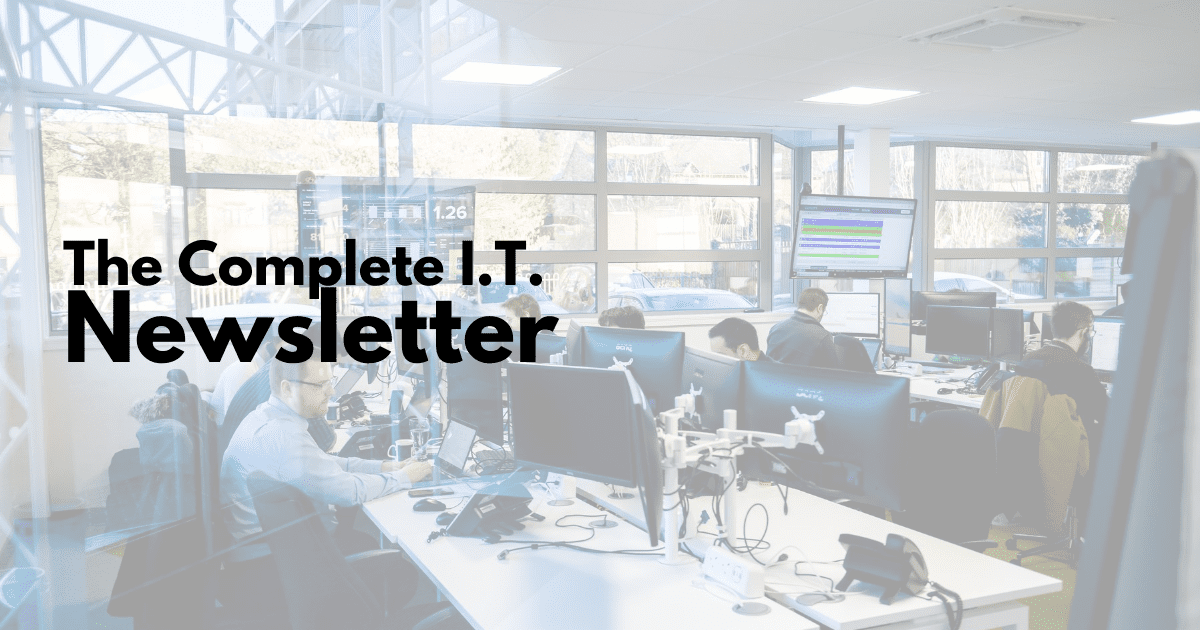 Since the start of lockdown we have been bringing you weekly webinars and advice on remote working, cyber security and returning to work. With that in mind we have decided to bring you the latest advice and guidance, webinar registration links and previous webinar recordings that you can share with your teams, all within The Complete I.T. Newsletter.
We have also been working with our clients on short case studies around the struggles they have come up against whilst remote working, how they have navigated lockdown and planned for the 'new norm' which we think may be beneficial to you. 
Advice and Guidance for Returning to Work
Have you started planning for a return to the office or a new way of working entirely? Either way we are here to help you. 
Help planning your office layout

Review your IT and infrastructure requirements

Revisit your IT Roadmap
If you need help re-configuring office space, re-cabling or setting up your systems to allow you to accommodate the latest way of working please do talk to your Technical Consultant or Account Manager. 
How can we help?
We will help educate your teams around new or existing solutions such as Teams, cyber security concerns or simply advice on the solutions that will allow you to collaborate and continue to work as if you are in the office. 
Everyone will be considering what their future workplace will look like as we are ourselves, whether you hope to return to a familiar set up or you would like to offer your teams more freedom to decide when and how they work, we are here to offer advice and guidance.
If you are unsure who to talk to about your plans please email info@complete-it.co.uk and we will point you in the right direction.
6 Things to Consider Before Returning to Work After COVID-19
With updates on COVID-19 and restrictions on freedom presented daily, organisations are now preparing for their workforce to return to the office. The idea of the workforce going back to normality anytime soon may seem unrealistic to many but it is important to think about the future and consider what your future office will look like.
Case Study: Microsoft Teams "We couldn't live without it…"
We asked our client Divorce Online, how COVID-19 has affected them and how they envisage the workplace of the future. 
Watch the case study with Divorce Online.
Optimised Visitor Management
Reduce the risk of COVID-19 entering your workplace with Optimised Visitor Management.
It's not just the risk of COVID entering the workplace and the need for a tiered return to work that has of course increased the need for visitor management. Within your business continuity planning have you considered visitor management to monitor who is where?
If you would like to discuss Optimised Visitor Management in more detail please fill in your details here.