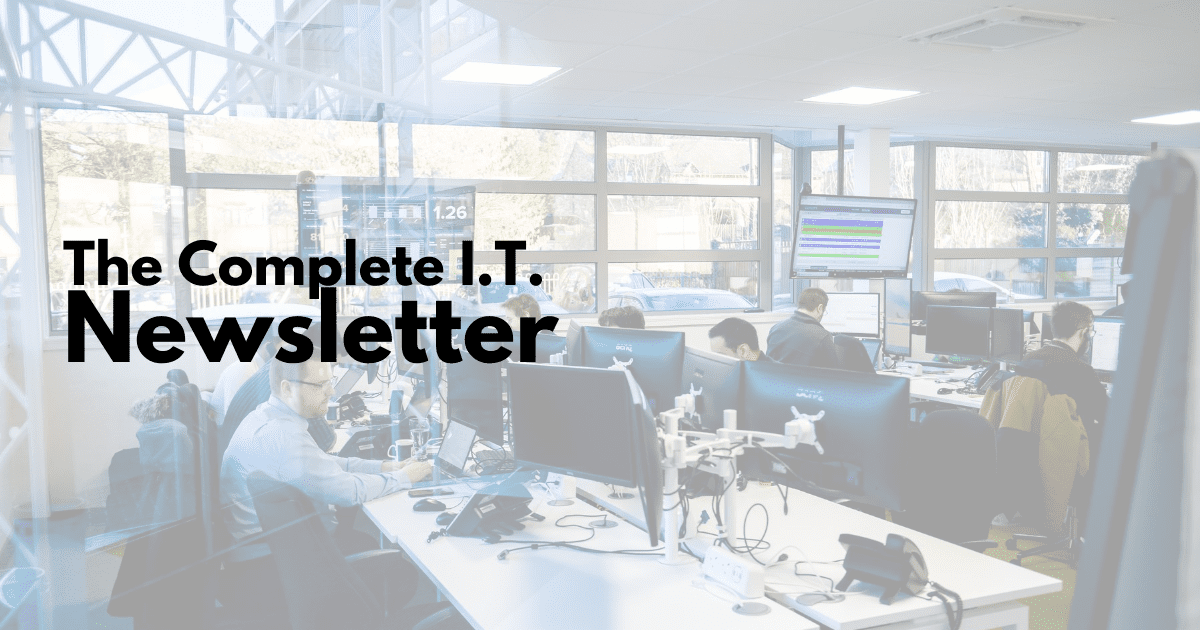 Another week closer to golden brown leaves and the wispy winds of Autumn – by now many of you have no doubt already returned to the office in some capacity and are hopefully enjoying a safe 'middle ground' between pre-covid life and lockdown.
I imagine like us, you've got gel dispensers everywhere, rigid cleaning routines and stricter rules around your office space. I don't know about you, but I was absolutely delighted to see my colleagues face-to-face and enjoy conversation that wasn't through my laptop screen for once!
A message from James Harris, National Helpdesk Manager.
I wonder how we would have coped without that sort of technology during the previous 6 months though?
It is something so incredibly spectacular that makes such a huge difference to our lives but, like many things since COVID, I realise I have often taken it for granted. I am reminded of my days on the helpdesk when I would often hear the phrase "its great when it works isn't it?" – luckily for us, that's where we come in and help you to achieve your business goals through the best possible use of the technology available.
Today is no exception, and in this week's jam-packed newsletter, we have got plenty of juicy bits for you to sink your teeth into!
For those of you still trying to get the team back to the office in a safe manner, we have a COVID Risk Assessment template for you to download and use so you can help give your team the peace of mind they need when they return.
We're also proud to share with you our 2nd eBook (We should become a publisher!) which focusses on the nature of cyber-crime, an ever-growing crime platform that gets more and more sophisticated with every passing day – it's not enough to wait for it to come to you, it's time to be prepared, and we can help!
And finally, if you missed the last Microsoft Dynamics Business Central webinar, we have a recording for you to listen to (Just click the link below!) and we're excited to announce our next webinar on the 23rd of September at 1pm. This time we'll be talking Microsoft Dynamics Business Central and how it can help you to streamline your payroll management.
As always, if there is anything you would like to see in our newsletter, please do get in touch and share your ideas.
So, what are you waiting for? Go grab yourself a cuppa and a biscuit and have a 'butchers'!
Ebook Part 2: The Nature of Cyber Crime
In the second ebook in our 2 part series we look at the multilayered approach you can take to protecting your organisation, which solutions we recommend and the steps you can start to put in place when creating your own Business Continuity plan.
If you did not get a copy of Part 1 download here. 
Missed the last Business Central webinar?
With most organisations looking to a future where flexible and remote working environments are key, we look at the areas that Microsoft Business Central can help to connect your business, improve collaboration and boost productivity whilst adapting to the 'new norm' of home working.
Covid Risk Assessment Template
As we return to the office and get back to some sort of normality we have put all of the steps in place to keep our teams safe.
We have shared our Risk Assessment Template in the hope that it may help you to plan for a safe return to the office to.
Congratulations Film & TV Charity
We would like to take this opportunity to congratulate our clients The Film & TV Charity for their win in the Charity Times Awards where they won the award for Best Use of Technology after setting up their Covid-19 Emergency Relief Fund  earlier in the year. We were so pleased to be able to help and continue to support the charity and their teams. Learn more about Film & TV Charity and how we have helped them here.