Microsoft Power Apps
Turn Your Ideas Into Smart and Simple Apps
What is Power Apps?
Microsoft Power Apps gives you the ability to turn your ideas into smart and simple apps. Power Apps is part of the Microsoft Power platform, alongside Power BI, Power Automate and Power Virtual Agents.
With Power Apps you can build custom apps to transform manual and repetitive tasks into innovative simple processes.
Power Apps can be securely shared, enabling seamless collaboration with your teams and customers, on phones, tablets and can be easily embedded onto your website. Power BI can also be integrated so that you can create dashboards and reports that update in real-time, giving you access to the data you need to fully understand the return.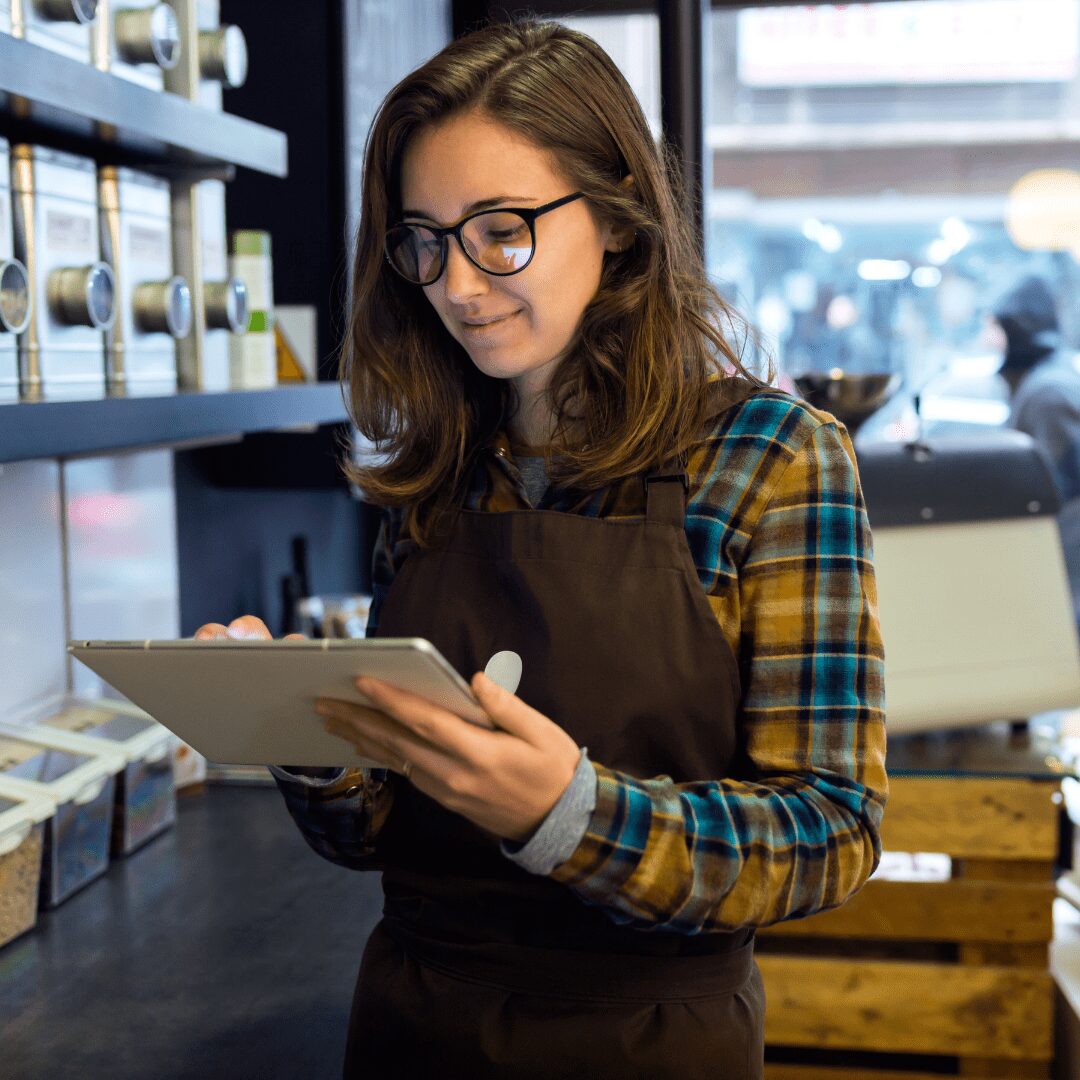 Power Apps in action
Using a retail environment as an example, a Power App can be created to increase sales and drive an improved customer experience.
The app can be completely customised to your specific business needs and your existing data can be linked.
The app can be used on the sales floor, via a tablet which will improve the customer journey and help to sell smarter, maximising sales.
Energise your sales floor with a new mobile Power App allowing them to:
Scan products to check they are in stock
Upsell merchandise with similar product recommendations
Easily process transactions
Re-order stock
From start-ups to multinational organisations, Power Apps is not limited to Retail but is valuable for every sector including Education, Not For Profit, Manufacturing, Banking and Transportation.
From apps that help upsell on the sales floor to a hotdesking registration app for your office, Power Apps can transform the way your business operates for the better – taking long-winded manual tasks and transforming them into an efficient app.
Tailored specifically to your business
Whatever your problem or process you'd like to improve, Microsoft Power Apps is fully customisable and can be tailored specially to meet your business goals and objectives.
Connect to data
You can connect your data sources to create a smart app that pulls in data to improve your business operations, sales and service offerings.
Benefit from low code
Instead of waiting for long development times, Power Apps uses low code which means a much quicker turnaround time, without compromising quality.
Reporting
Track results in real time and access data via your linked interactive Power BI dashboard.
How we can support your business with Power Apps?
Complete our Power Apps overview form.

Our consultants will review the information and prepare a set of tailored questions, based on your processes. systems, requirements & challenges.

We'll arrange a short introductory call with you to discuss your requirements further and to run through any questions.

We will then prepare a tailored services proposal that sets out the costs to deliver the desired app, built around your specific needs.
How can Power Apps help me?
Power Apps helps you to solve business problems and work more efficiently. Think outside the box and discover a host of scenarios that will empower your team to work smarter and more efficiently.
Hot Desk Booking App
Problem: Managing your teams' movements because you only have a limited amount of workspace or for health and safety reasons.
Solution: Create a Hot Desk Booking Power App which allows your team to book a slot in advance so that you can easily manage who will be on or off-site.
This takes the strain away from your office manager and allows them to focus on their core responsibilities.
Managing Manufacturing Processes App
Problem: Working across multiple systems has led to inefficiencies, such as duplications.
Solution: Streamline manufacturing processes with a Power App which tracks everything from quality checks, order sign-offs, and Shipping details – all in one place.
Employee Onboarding App
Problem: First impressions count, but inducting a new employee into the team can be a struggle, finding the time, booking introductions across the business, training and so much more. Company policies and other important documents are often stored in various locations so are not easily accessible to you or the team, often making the whole process feel a bit clunky.
Solution: Why not create an Employee Onboarding Power App that your teams can use to fill out their Office 365 user profile (office applications can be integrated with Power Apps), complete relevant onboarding tasks and also access the important company information that they need to.
Field Service Agent App
Problem: Recording tasks from start to finish can be a long-winded process. From booking client site visits to recording job updates, providing communication information to members of the team and getting sign off can be very time-consuming.
Solution: Creating a Power App where you can track all events including client site visits (with photos and audio where necessary), along with health and safety sigh-off and end-user sign off will make the process much easier as everything will be in once place.
A Knowledge-base App
Problem: Unsure how to store and communicate infromation to the team.
Solution: A knowledge-based Power App where you can create an organised library of articles and infromation which will aid your team in completing their jobs.
This could be useful for many different situations, including client-facing help documents, internal systems help sheets, internal system help sheets and helpdesk articles.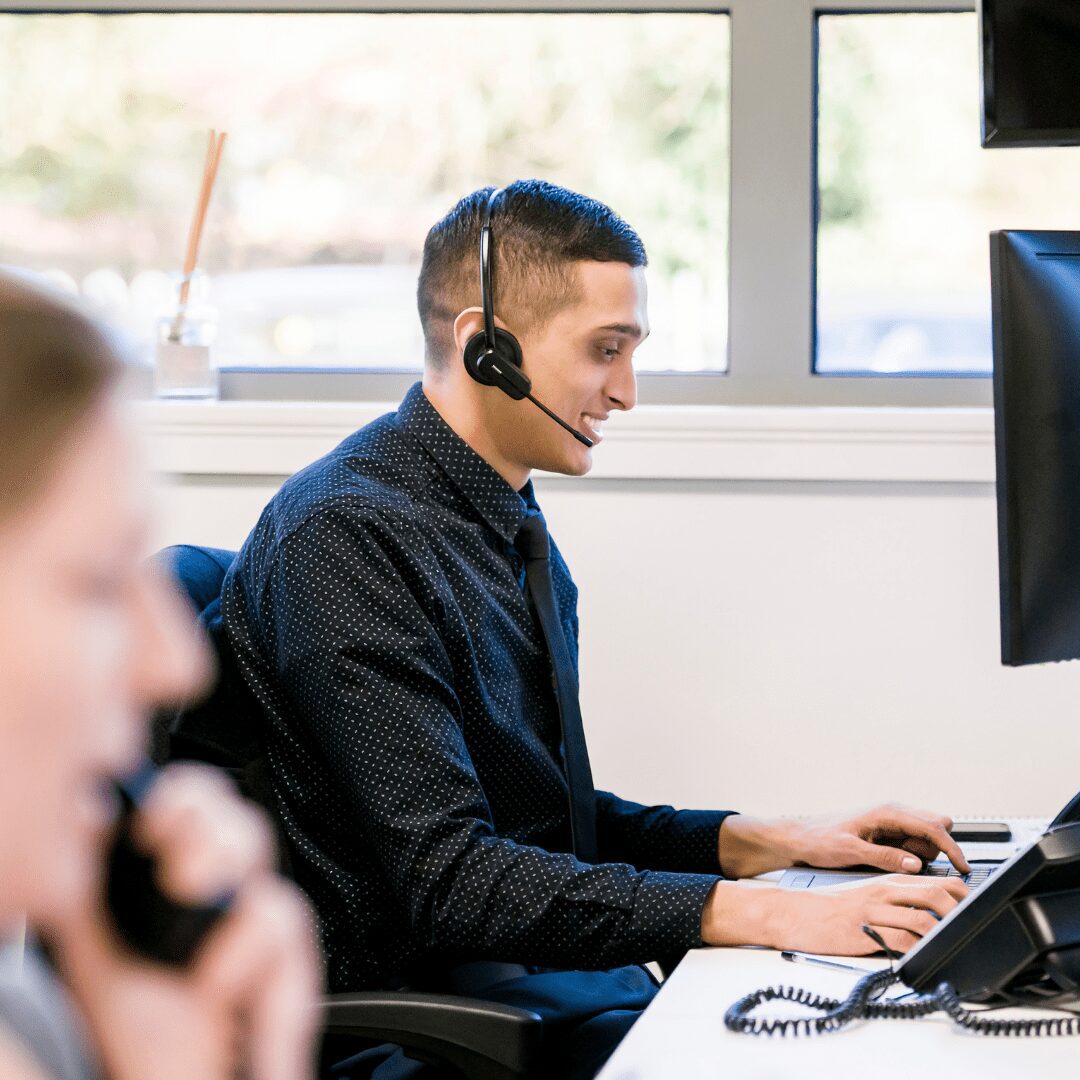 Heathrow Airport uses Power Apps
Watch Microsoft's Webinar with Satya Nadella that explains how Heathrow Airport uses Microsoft Power Apps to help achieve its vision of providing the best airport customer service in the world.
Power Apps Webinar with Microsoft
In this webinar, we were joined by Jordan Montlake, Power Platform Cloud Solution Architect at Microsoft. Jordan explains what Power Apps is and how the powerful end-to-end business solution can improve and automate manual tasks.
Watch the recording now to learn how your organisation can make smarter business decisions and drive results.
Complete I.T. Client Case Study
We have helped one of our Wholesale Distribution clients create a professional service Power App.
The Challenge
Our client was experiencing a number of challenges and frustrations when it came to the processes they had in place for stock management in their warehouse. Due to business growth, they had recently moved to a much larger premises but realised quickly they had a major issue and bottleneck to their processes in the main warehouse.
Issue creating picking lists for the warehouse staff
Slow process and time not being used effectively
Using Excel to keep track of locations which led to human error and poor formatting – causing duplicates, missing or incorrect entires
The Solution
With the challenges understood, there were two main areas of focus, reporting and the warehouse picking process itself.
After an initial investigation into their processes, CIT were able to highlight a problem with the quality of data which was contributing to the challenges they were experiencing. They needed to pull together Sales Order information and Stock Location information from multiple data sources to improve the quality and speed in which they could work.
This is where Microsoft Power Apps was introduced as a possible solution and once our client understood the full potential of Power Apps and how they could easily track return of investment it was time to start development.
Firstly CIT needed to address the issues with recording data so a database in the Power Apps online storage utility was built to record stock details, sales order details and stock locations.
Microsoft Power Automate was then used to upload data to the database at the push of a button which meant the risk of manual error was eliminated and data would be updated in real time. Microsoft's inbuilt query functionality was then used to build an accurate picking list based on the online database.
A website driven Power App was developed which was able to maintain and administer warehouse locations, hold the live and accurate data and empty locations on demand.
Lastly, a Mobile Power App was created meaning that staff had access at all times to make positive or negative adjustments to stock values. All these data sources were linked to ensure our client did not experience any more confusion and frustrations around warehouse processes.
The Result
Our client has gone from a manual system for preparing and picking stock ready for collection, causing a huge drain on time and issues with the quality of data, to a fully automated system.
This was a small build that allowed them to improve their warehouse processes at low cost in comparison to a full Warehouse Management Solution. Power Apps uses low code meaning there is scope to add functionality quickly and easily should the need arise further down the line.
How can Power Apps transform your business
188% ROI over three years*
74% reduction in app development costs*
3.2 hours/week average improvement of line-of-business employee productivity*
*(Forrester Consulting, 2020)
From everyday processes to niche requirements, when thinking about how Power Apps can help you, you need to first identify the processes you have in place and ask yourself "could this be improved?". If the answer is yes, but you're not quite sure how, Complete I.T. are here to provide a tailored service that will improve your operations and efficiency.
No Results Found
The page you requested could not be found. Try refining your search, or use the navigation above to locate the post.