Audio Visual Solutions
Consultancy, design and support
What are Audio Visual Solutions?
From projectors and multi-way phones, audio visual solutions have developed alongside technological advancements, with a great amount of improvement coming in the last decade, resulting in improved teaching and learning. It enables organisations to work smarter and more collaboratively.
Whether you are an organisation who needs a fully equipped meeting or conference room; a charity offering an interactive information workshop; a retail outlet who wants to improve footfall by keeping customers engaged with targeted information in real time or an educational establishment that inspires interactive learning; audio visual has a positive impact on what you do.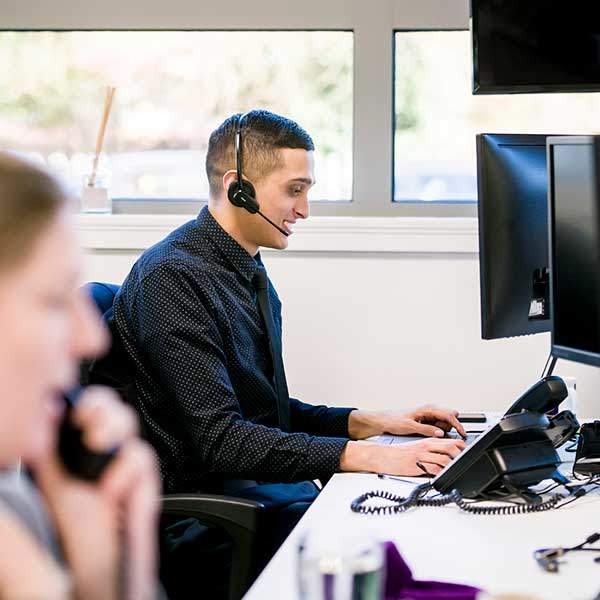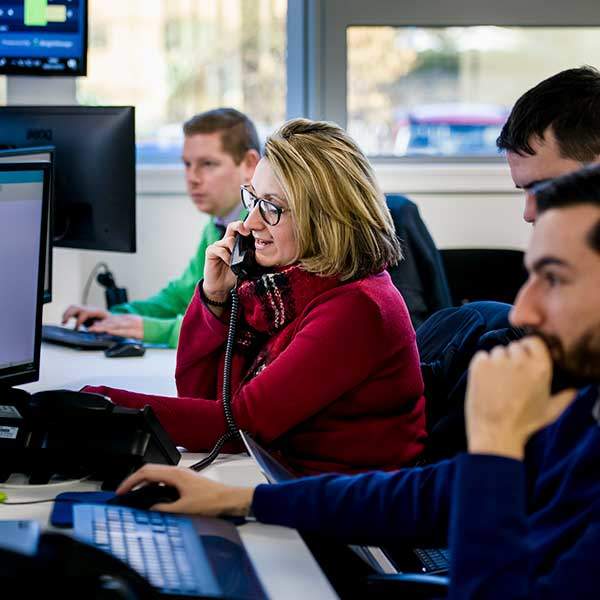 How can Audio Visual Systems improve your organisation?
Through the use of connected technologies, audio visual positively impacts how an organisation engages with information. It enables a smarter and more collaborative environment and can benefit engagement, productivity, sales and revenue.
4K Interactive displays have the power to transform meetings and lessons, a highly responsive PCAP multi point touch natural pen-on-paper experience promotes collaboration between teams in even the most demanding environments.
A plug-and-play display enables better space utilisation and works seamlessly with Microsoft 365 collaboration tools and Microsoft Teams – it's perfect for meetings, boardrooms and training rooms. The integrated 4K camera and microphone offers many device sharing benefits.
In addition, wireless features enable you to connect to mobile devices allowing you to demonstrate your points and ideas clearly and concisely.
Windows Collaboration Display
Increase productivity with the first Windows collaboration display
Remote working and multi-office locations are fast becoming the norm. The need to collaborate whilst in different locations is becoming a must have feature.
Collaboration made easy
In 2019, Sharp launched the first Windows collaboration display that integrates with Microsoft Teams and is also compatible with Skype for Business.
Collaborative working has never been so easy with the Microsoft 365 suite. Finance can work on the same Excel spreadsheet, Marketing can update slides for the next new business meeting and Sales can update their proposals all in real time and viewed on a 4K 70″ Screen.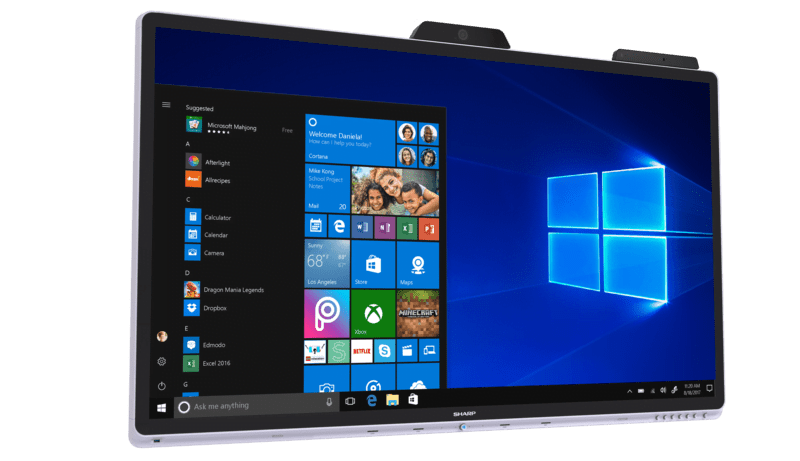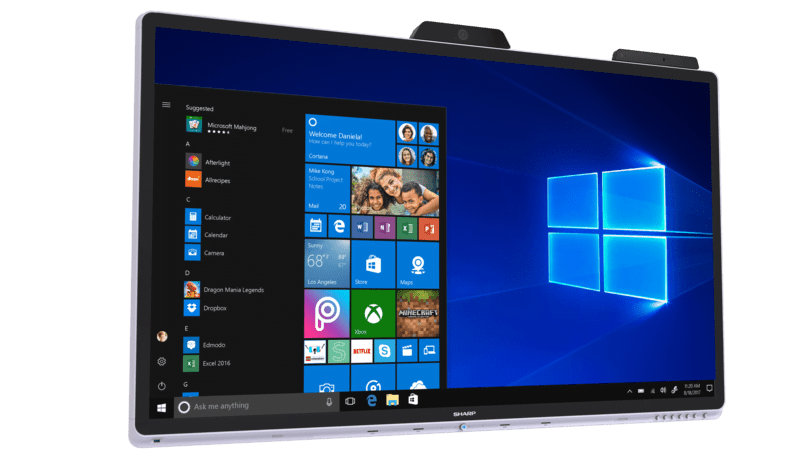 With award-winning touch screen technology, along with Skype for Business certified audio and video and with the best commercial collaboration tools available, your meetings can be taken to another level.
What is included with Windows collaboration display:
4K 70″ Interactive Display
Seamless integration with the Microsoft 365 suite
Plug and play USB-C setup
Skype for Business certified
Contact us to find out more about Audio Visual Solutions.
Walk in, Plug in & Work Together
Setting up the technology needed for a meeting can take up a lot of valuable time which can be a bit frustrating. But with the Windows collaboration display, you simply 'plug and play'. It is that simple and easy to just walk into a room, plug in your device and start working together straight away.
Just connect with the 8m long USB-C cable and it automatically switches to the right input for whatever information you want to display. You're instantly ready to start your meeting – saving up to 10 minutes* time trying to set up connections – a seamless audio visual solution.
*Total Economic Impact™ Study, Forrester Consulting, February 2016.
Simply Much Easier
Thanks to the Windows collaboration display's exceptional responsiveness and ease of use, it also:
Speeds-up collaboration – users can work together immediately, with no training, which encourages more engagement and interactivity.
Builds confidence – users feel more confident and willing to participate and present and share information.
Increases concentration – users can focus on the delivery of content with no technical distractions.
The Windows collaboration display comes with a Passive pen as standard. Designed with a precise 2mm tip for precise annotation and a broader tip for automatically sensed eraser function, this powerful and ergonomic stylus sits comfortably in the hand enhancing the Pen-on-Paper® experience.
Awards/Certifications
Sharp's Windows collaboration display has won an award for Best New Collaboration Board in the 2019 Best of ISE Awards (rAVe publications) and 2019 Top New Technology (TNT) award for displays (CE Pro and Commercial Integrator magazines).
In addition to the Skype for Business certification, the Windows collaboration display has received a Crestron Connected® certification which shows that employees can stay focused on more important tasks instead of spending time setting up in meeting rooms. What more could you want from your audio visual system?