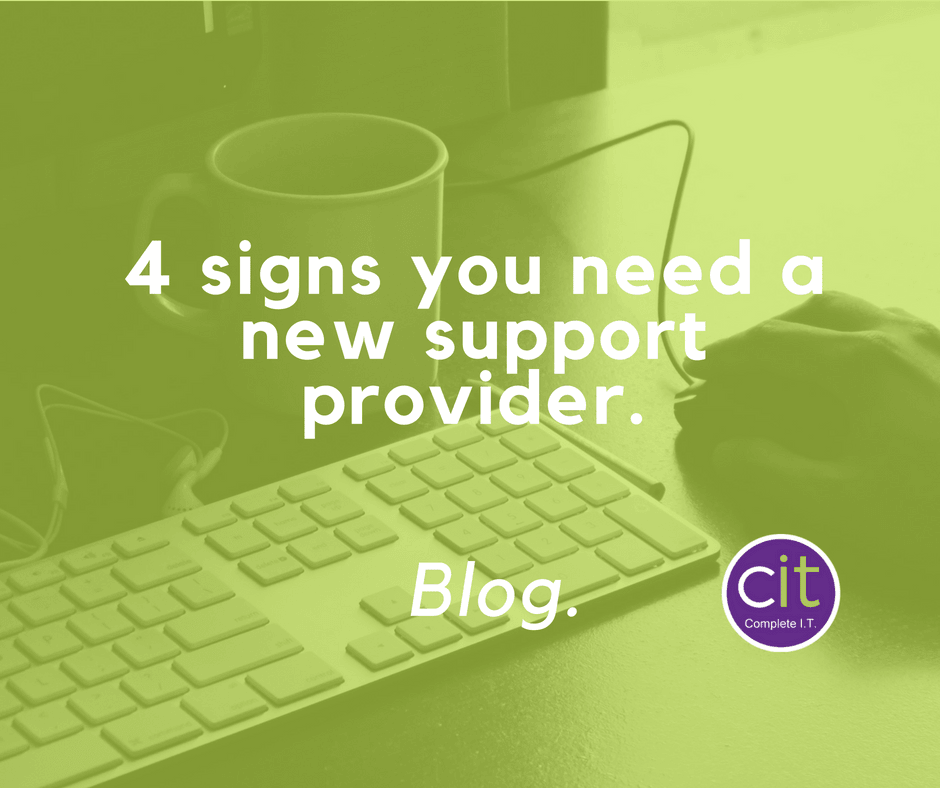 Entrusting a support provider with the task of maintaining your IT systems can seem daunting. With a host of IT support providers to choose from, how do you know which one to choose? Even if they gave you their sleekest pitch and a nice lunch, you never really know what their services will be like until you sign the dotted line. But what happens if their level of service isn't what you were told it would be? How do you know if you have a good provider? Well luckily for you we have put together this list of warning signs to make sure your IT support provider is equipping you as best they can. If you find yourself asking these questions, maybe it's time for a change.
1: Are you still my provider?
IT Support providers are more than just an emergency port of call for when things go wrong. If you have to think about who your provider is, the chances are they aren't doing a good job. IT providers should feel like an extension of your own team and not a stranger.
At Complete I.T. we pride ourselves on the relationships we build up with our clients. Instead of Jane in accounts frantically digging through her emails to look for her IT support providers number, she'll pick up the phone wondering whether it will be James or Warren on the other end of the line. On top of this, Complete I.T.'s clients benefit from regular meetings with their Account Manager, regardless of any IT issues, to catch up and discuss any changes to their IT roadmap.
2: Have you lost my ticket?
Whether it's as simple as resetting a user password or rebooting a whole server, you should expect to be kept in the loop by your IT support provider. There is nothing worse than starting up your machine on a Monday morning and finding an issue that prevents you from going about your day in a normal fashion, so having an IT provider that fails to update you on where your ticket is can be incredibly frustrating.
We aren't trying to make you jealous, but at Complete I.T. we always make sure our clients know exactly where we are with their IT issues. Aside from our average answer time of 5 seconds, we currently have a strong focus on first-time-fixes, aiming to fix our clients issues in under 1 hour where possible. As someone who sits next to the Thames Valley helpdesk I can tell you that this is something the whole helpdesk team wants to achieve. After all, who wouldn't gloat if you were at the top of the first-time-fixes board? Inevitably, not all the tickets we receive can be fixed within the hour. The most technical tickets get sent 'up the line', to either a 2nd or 3rd line problem. At this stage we still work hard to keep you as best informed as possible and will call to update you should the ticket take longer than expected to resolve. Even once we have fixed the problem we still like to check in with you to make sure everything remains as it should be – each of our helpdesk technicians has monthly client call back targets to ensure any problem remains fixed.
3: Can we have some more help other than with tickets?
As you all know, the rate that the IT landscape is changing is faster than ever. If your IT support provider is not promoting the use of the latest technology, alarm bells should be ringing. How can you successfully scale your business if your IT systems are 5 steps behind your competitors?
As an extension of your organisation or existing IT team, we work very closely with you to identify new technologies that we feel will make a wealth of difference to your business. As a client of ours, you will benefit from an IT roadmap that outlines areas of your systems that we have identified as needing a change, along with key dates that these activities should be completed by.
4: Why do things keep breaking?
Most in-house IT teams will follow a break/fix setup, whereby a problem arises and it gets fixed. This reactive strategy can appear to work well but try and think of it like a leak. If your sink starts spouting water and you slap a load of duct tape on it to stop the water, have you fixed the leak or temporarily patched it? Unless you are a cowboy, you most definitely haven't fixed the leak. Why should it be any different for an IT support provider?
At Complete I.T. we use our Complete Monitoring systems to identify and resolve issues before they even arise. In other words, should your tap begin to leak during the night while you are asleep, our system would raise the alarm and we would fix the problem before you woke up, with absolutely no need for duct tape!
Your IT department really should feel like a part of your organisation and should work with you to continue to evolve your systems. If they aren't, they could be costing your business a lot of money and can be preventing you from scaling in the future. Feel like your support provider isn't giving your business the attention it needs? Don't hesitate to contact us today.