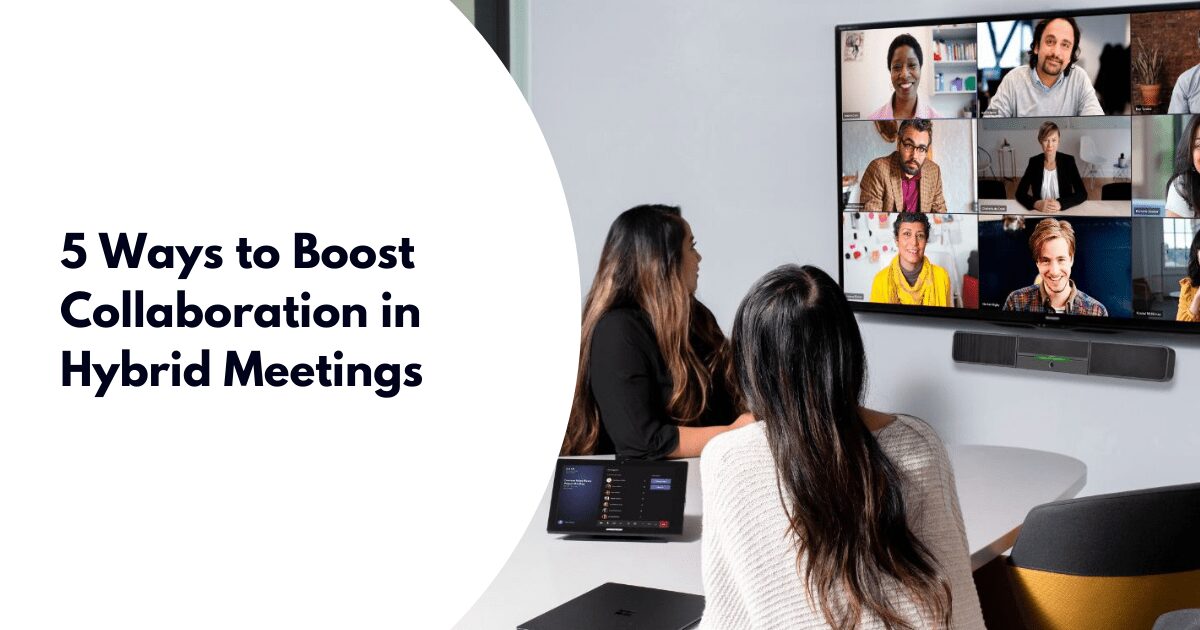 To many, a key aspect of our working lives is partaking in meetings. Meetings with team members, meetings with clients and meetings with suppliers.
Research suggests that in 2018, 48% of the UK workforce had the ability to work from home (Source Mckinsey global analytics ) but bring this forward to the present day, it is expected that 80% will now be Hybrid and 10% office based (Cushman & Wakefield's "New Perspective: From Pandemicto Performance"). This springs the question; how can we ensure collaboration in hybrid meetings when our team are working from different locations?
First off, let's clarify "What is a Hybrid meeting?"
A hybrid meeting is a meeting that consists of remote and office-based workers coming together. It encompasses both parties being able to communicate and collaborate together.
Discover our 5 ways to boost collaboration in hybrid meetings below:
Inclusive and interactive meetings that help support the balance of hybrid working
Trying to ensure everyone is happy, comfortable and feels listened to in meetings can be a difficult task. When you bring hybrid working into the mix, this difficulty level gets elevated as you have a mixture of office-based and home-based team members.
This can negatively affect motivation, collaboration, and creativity but it doesn't have to be complicated. Microsoft Teams Rooms helps your team to feel closer and those that are joining remotely can still feel like they are in the room.
Transform any space into an interactive meeting room, benefiting from a wide selection of devices and features to help ensure everyone can be seen and heard.
Set an agenda – Simple, right?
Setting out an agenda ahead of a meeting may seem like an obvious thing to do but how many times have you been part of a meeting which has had no focus or actions? Too many, right?
Creating an agenda ahead of time and asking for input can help prepare your team for the meeting. They can absorb the information you've provided and will attend fuelled with ideas and questions, no matter where they are working.
Use platforms like Asana to help manage actions from meetings
Improve productivity by recording actions directly into platforms such as Asana and Monday.com. Share your screen during the meeting and set tasks directly in Asana, assigning due dates and team members.
Everyone will then leave the call feeling energised for their next steps as they know exactly what is expected.
Get feedback!
You can create surveys and polls to ask for feedback before and after meetings. Whether you want to collect ideas for topics of discussion or maybe you'd like to understand your team's feelings on how meetings are operated.
Getting feedback provides everyone a chance to have their say and is a great way to ensure you are always improving and collaborating in the most effective way.
Clearer air, clearer thoughts
Provide a sanctuary of fresh air for your team members and help them get away from the day-to-day pollution they are exposed to.
Increasing the amount of fresh air around you helps improve focus and concentration and in turn, will help with productivity!
The Plasmacluster reduces bacteria by 99% and overall provides a cleaner, healthier and more comfortable working environment. Download the PDF to find out how it works.
If you would like to learn more about how we can support your team with a hybrid working model, get in touch today.