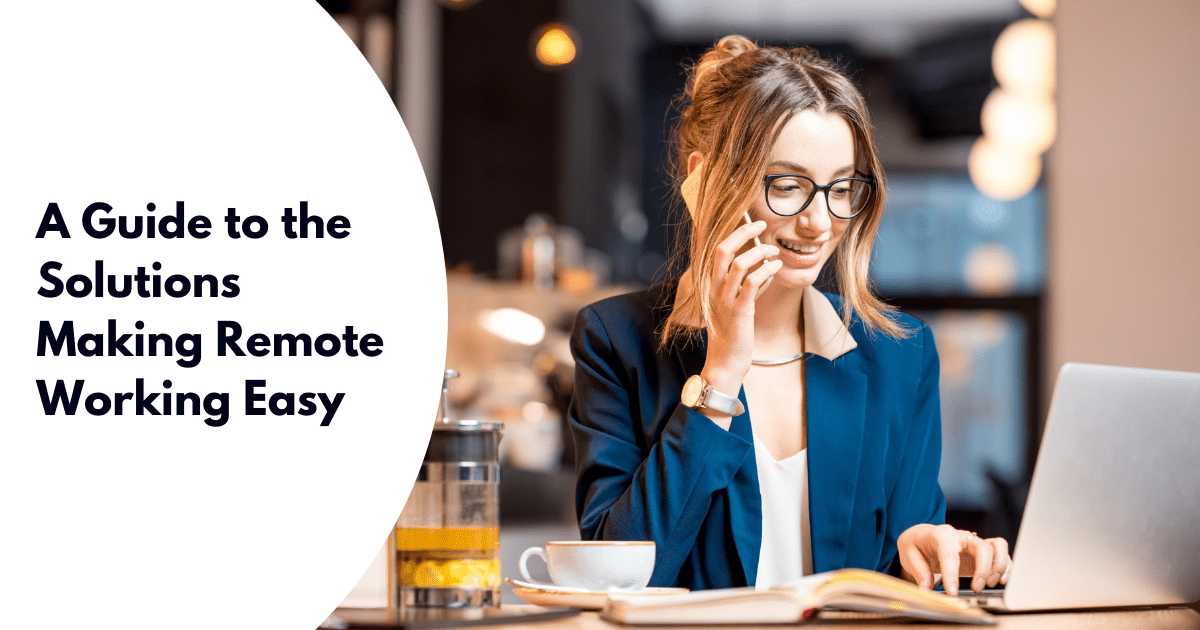 Last year when the Covid-19 pandemic hit, many businesses had to quickly enable their teams with the solutions needed to work remotely, almost overnight, as the government encouraged everyone who could work from home to do so and to avoid going into workplaces. Such a large change also brought up a lot of questions and concerns. How will my teams continue to collaborate and attend meetings? How can I make it easy for our clients to call and contact us? How can we access and share information and documents as we would in the office? What added risks does working from home pose to my business and how can I protect it? Fortunately, a lot of the technology to solve these problems had already been developed and was easily integrated into most businesses.
In the last year we have helped many of our clients transition to working from home and we have found these top 4 remote working solutions have made the biggest difference!
Microsoft Teams
Programmes like Microsoft Teams and Zoom have without a doubt had one of the biggest positive impacts on how we work from home. They've become an essential part of remote working, with many people using them daily. Microsoft Teams' video call, audio call and chat are key features and they allow us to continue face to face virtual meetings, collaborate on projects, catch up with colleagues and even host fun virtual events like quizzes and escape rooms which are excellent ways to keep your teams engaged and having fun. Microsoft Teams is part of the 365 toolkit so in the app you can access your Outlook calendar and shared files in cloud storage. Microsoft Teams also integrates with many apps such as PowerBi, Power Apps, Adobe and Asana all making collaboration, reporting and productivity easy.
Hosted Telephony
Hosted Telephony is an excellent solution whether you're working in the office or at home but it has proven to be essential since the beginning of the pandemic. Also known as VOIP (Voice Over Internet Protocol), Hosted Telephony uses the internet to connect calls as opposed to landlines. This means that so long as you have an internet connection, you can continue to receive calls wherever you are, just unplug your desk phone and plug it in at home. It can also be used across multiple devices such as a mobile phone or your PC. This flexibility has allowed businesses with Hosted Telephony to let their employees work safely from home trusting that their clients and partners will still be able to contact them using their regular contact number. It also makes transferring calls as easy as if you were in the office and you don't need to have anyone in the office to answer landline desk phones.
The Cloud
Many services these days take advantage of cloud technology using remote servers accessed via the internet rather than an on-site server and with this technology comes a lot of benefits that have helped create a seamless transition to working from home. Microsoft 365 is one of these services and allows your teams to easily access and share files and collaborate on projects using the many Microsoft programmes and apps included in the service. By using cloud technology, staff that are working from home or remotely can access data and use these Microsoft services just as they would do in their regular workplaces.
Security
Business owners trust and are familiar with the security measures in their offices that have been put in place to protect against cyber security threats. So how can these business owners be sure that all their endpoints are protected when their employees are working from home? Fortunately, there are solutions available that provide that extra layer of security to monitor and protect all endpoints no matter where your employees are working. Services like our Total Endpoint Security and Compliance uses AI to detect malicious activity 24/7 on all your business devices so that they can be dealt with before malware is deployed. Having this additional peace of mind is invaluable in what can be a stressful and uncertain time for businesses.
Learn more about Complete Virtual Workplace, our comprehensive, scalable and secure remote working solution
Read more about how cloud technology can be a part of your disaster recovery plan
Looking for IT support in the East Midlands? Contact us here!