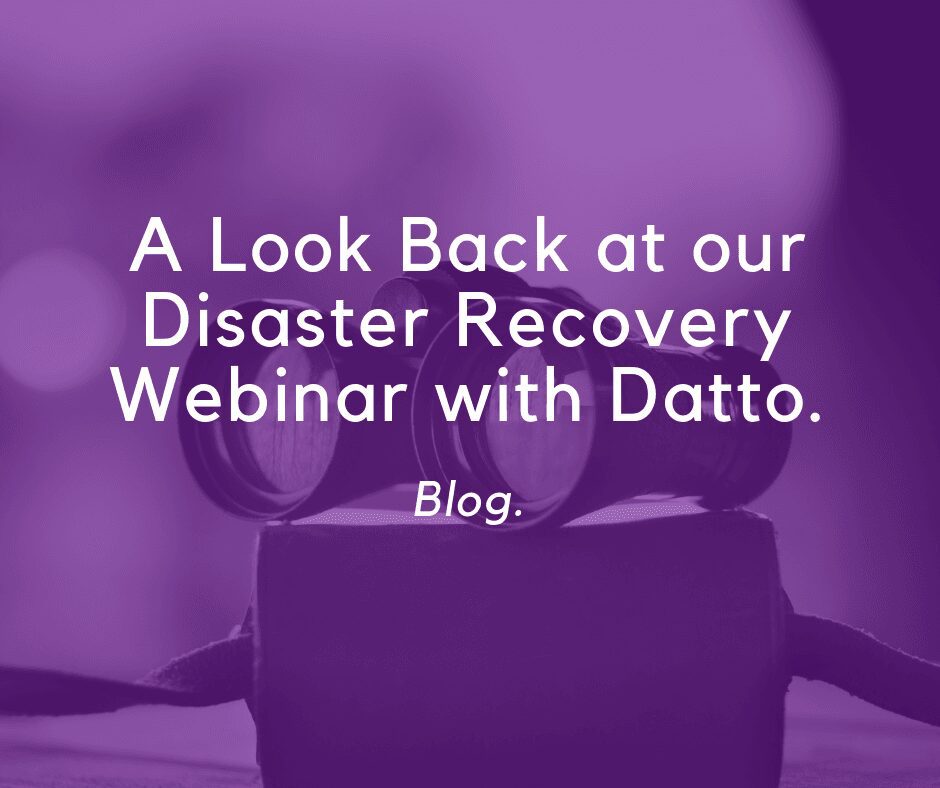 Back in February we launched our new monthly webinar series looking at some of the challenges businesses face today as well as the tools out there which can be used to mitigate some of the risks presented by these challenges. To kick things off we went over to see our disaster recovery and business continuity partners Datto to bring you a webinar looking at the need of protecting your data and creating a reliable Disaster Recovery Plan.
We were joined by Dan Scott, Quality and Project Manager here at Complete I.T. along with Adam Shillcock, Technical Engineer at Datto.
For the first half of this webinar, Dan walked us through some of the most prevalent threats facing SMBs today. There is often a misconception that while there are lucrative targets out there for attackers in the form of large banks and enterprises, SMBs are surely safe from the threat of an attack. As Dan discusses, the reality is that SMBs are often viewed as easy pickings for attackers. It is much easier for them to get into your network to make some quick money when compared with the task of trying to breach the likes of Barclays and so on.
Some of the threats Dan discusses include Ransomware, Phishing, Malware and most importantly the End User – these are the ones who pose the biggest threat to your businesses level of security. While threats continue to develop, if you give no end-user training on how to avoid these threats your teams remain your biggest weakness. Even the most secure systems can be compromised by a rogue click on a link or attachment by one of your employees.
During the 2nd part of Dan's segment, he talks about best practices that should be encouraged within your business, specifically password policies and end-user training along with introducing the need for a reliable Disaster Recovery plan and Backup solution.
For the second part of the webinar, we were joined by Adam who introduced Datto and their solution. For those that don't know Datto is a cloud backup solution aimed at mitigating some of the risks of ransomware and resulting data loss. Data is the bread and butter of every single business – without it, you have no customer database, no order history and ultimately no way to sustain and scale your business. When disaster strikes and your data is compromised, you could find yourself in a lot of bother if you don't have a reliable back up solution.
During this part of the webinar Adam demonstrates what a ransomware infection looks like, as well as walking us through the Datto solution when it comes to data recovery. Adam demonstrates the speed at which Datto can replicate your businesses servers to the cloud to prevent costly business downtime.
See the recording here