Office 365 users are likely to be familiar with the Microsoft Teams, but do many of you know its best features? Coming as part of the 365 package, you should be encouraging your own teams to make use of the aptly name app that encourages and facilitates teamwork and productivity.

Most of you will have used Skype for Business in the past and will most likely agree that it is the virtual version of sending notes across the office to other team members. The stark difference between Skype for Business and Microsoft Teams is that Teams can be treated as a virtual workspace with a place to share notes, store files, share interactive whiteboards and to act as a central hub for team operations.
Teams gives your different departments or projects a platform with their own dedicated thread. Your marketing team for example needn't be tied to just one 'virtual room' though – Teams gives you the option of splitting each thread into multiple channels, for example 'social media channel' or even channels dedicated to particular clients and their materials.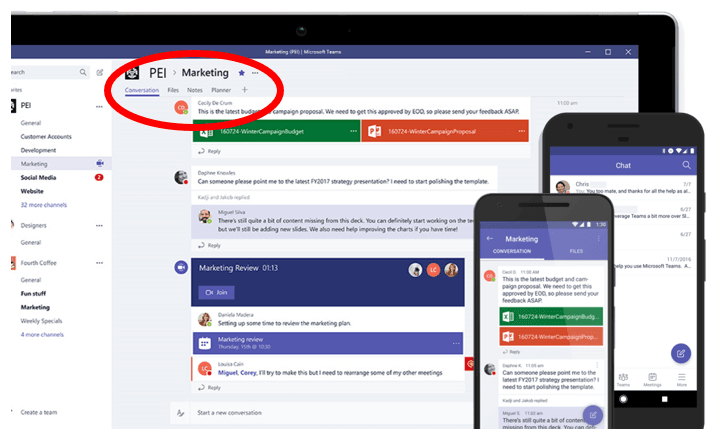 As you can see in the example above, each thread has its own dedicated chatroom, file, note and planner tab, giving your teams one centralised location with everything they need to get on with their tasks. You also have free reign over which tabs you have in each thread, so if you're working on a new website you can have a whole dedicated thread with individual tabs that could include 'cool suggestions', 'example contact forms' and so on.
One of the features of Teams that we find most useful is the ability to schedule and host a meeting, all without leaving the application. It gives you a view of all your scheduled meetings, timings and who will be attending. Need to host a meeting? Just schedule it directly from whichever thread you find yourself in. You can also host private meetings with individual team members as well as the option to invite guests if you are hosting a meeting with someone outside of your organisation.
What else is Teams good for?

When using Microsoft Teams, you can be assured that you will always be using an application that provides you with leading compliance and security capabilities. With the age of GDPR almost into it's first full year, you can also be sure that your employees only see what they should be seeing – You can select a team owner who has control over access permissions, meaning someone from sales doesn't see confidential HR documents which could be classed as a data breach. This also helps when inviting guests to join your teams – make sure you set permissions so that they can only access the things that you want them to see.
With today's modern workforces now spread across multiple locations, possibly even countries, it is vital for your teams' productivity that you can host a meeting from anywhere that your schedule finds you. This is where Microsoft Teams' meeting capabilities come into play, meaning you can quickly schedule meetings with a matter of clicks. Teams will then give you a really simple and clear overview of what your schedule looks like, giving you the chance to join scheduled meetings again in just a matter of clicks.

With the plethora of bots available in Microsoft teams, you can sit back and let them do some of the work for you. These bots are really simple to access via the built-in bot directory, and are just as simple to use. For example you're in a meeting and need to take a democratic vote to decide the next movement of a particular project – just pull up Polly from the directory to send a poll out to the meeting or chat room to decide on the fate of the project. It isn't just polls though, there are bots for pretty much everything. If you're going away to a conference and need to book flights, pull up the Kayak bot and type in your destination and time and let Kayak bring up suggested flights for you. It's as simple as that!

The feature that gives us the most satisfaction is the fact that you can be with your team anywhere, from any device. Teams not only has a great web interface and desktop application, but you can also answer your colleagues from pretty much any device no matter where you are in the world. This is great for when you're working away or out of the office, especially if you are a bit further afield and cannot make it back in time.
With Skype for Business slowly being phased out in favour of Microsoft Teams, it is a great time to start exploring its capabilities and getting to know Teams' many capabilities. If you are not yet a user of Office 365 and feel like you're missing out, get in touch with us today to discuss your requirements. If you want to learn a bit more about Office 365 see our top 5 reasons to make the switch.