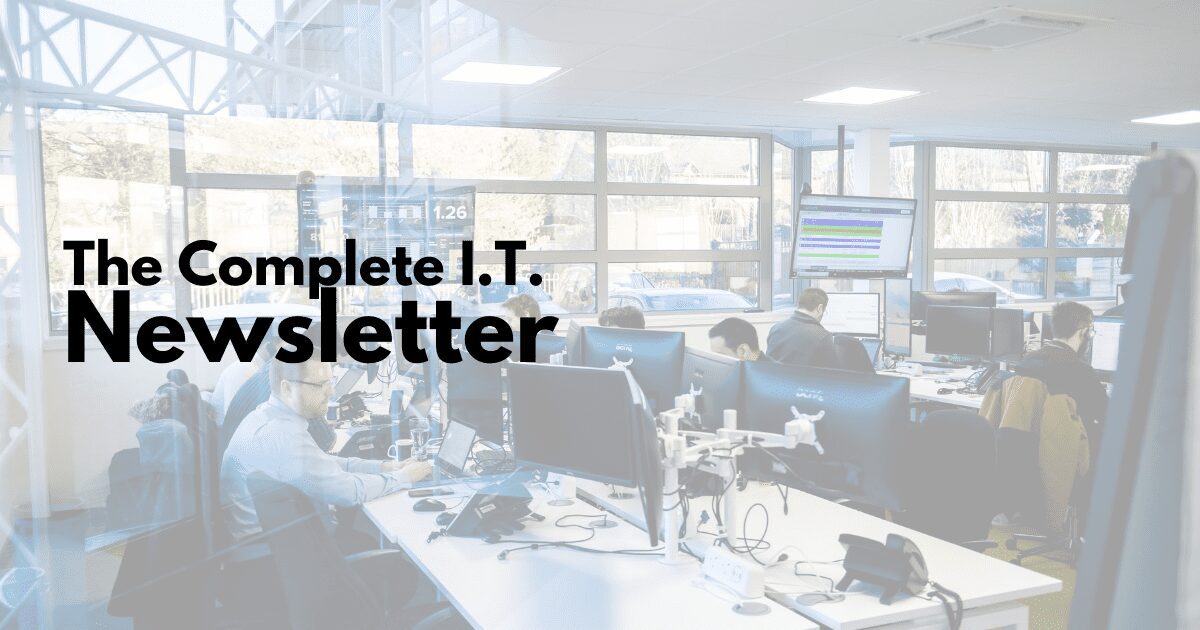 In this edition of the Complete I.T. Newsletter catch up on last weeks webinar on Visitor Management which will go along way to covering your health and safety policies as you return to the office.
Please also make use of our Risk Assessment Template that we have used ourselves whilst planning our return to the office.
We are also very excited to launch the first in a 2 part ebook around Cyber Security within the workplace, you will have access to part 2 in our next newsletter which will be with you in two weeks.
We take a look at Hosted Telephony a fully featured, 100% cloud telephony solution, simple to use and designed to enable your teams to work smarter and safer wherever they are.
As always please just ask for further information and we always welcome any feedback.


Catch up on our webinar where we show you, how you can easily track and trace everybody who is on or off-site going along way to helping with your health and safety plans.
With a Visitor Management System you'll have the confidence to know that you'll be able to locate everyone quickly and efficiently in the event of an emergency.
Download our Ebook Now
Do you understand the cyber threat landscape? This easy to digest ebook goes into more detail about the various threats as they evolve and continue to cause business downtime and potential loss.
User education should underpin your cyber security plan, we are constantly researching and testing the best Cyber Security Solutions available to you so that you don't have to.
What is Hosted Telephony?
Much like the traditional telephone, telephony solutions have the same communication aim but with added extras. The main difference is that telephony in the cloud, rather than in your office.
The key benefits of Complete Hosted Telephony:
ISDN doesn't offer anywhere near the amount of features that a Complete Hosted Telephony solution does.
A single point of contact and ownership for all your telephony and IT needs and issues.
A fully unified communications solution for every team member – 80% of our clients are now choosing to rely fully on a soft phone with no desk phone at all.
A mobile app means your teams can keep in contact no matter where they are, or which of their devices they are working on, meaning in the event of a second lockdown there will be no business downtime caused by lack of a suitable phone system.
Totally cloud based, meaning no reliance on equipment in your building such as phone servers/PBX's.
We can make changes remotely, no need to program equipment. Have a new team member starting? No problem, if you require a desk phone we can deliver you a new phone to either your office or their home that will set itself up as soon as it's plugged in.
Always up-to-date, no hardware maintenance contracts or software update costs.
Covid-19 Risk Assessment Template
Download our COVID-19 Risk Assessment Template which helps you identify, plan and action risks within your office environment.
If you would like any help with your risk assessment please talk to your Technical Consultant or Account Manager or emailenquiries@complete-it.co.uk.
Questions?
If you have any questions or would like further information, please email us at info@complete-it.co.uk.