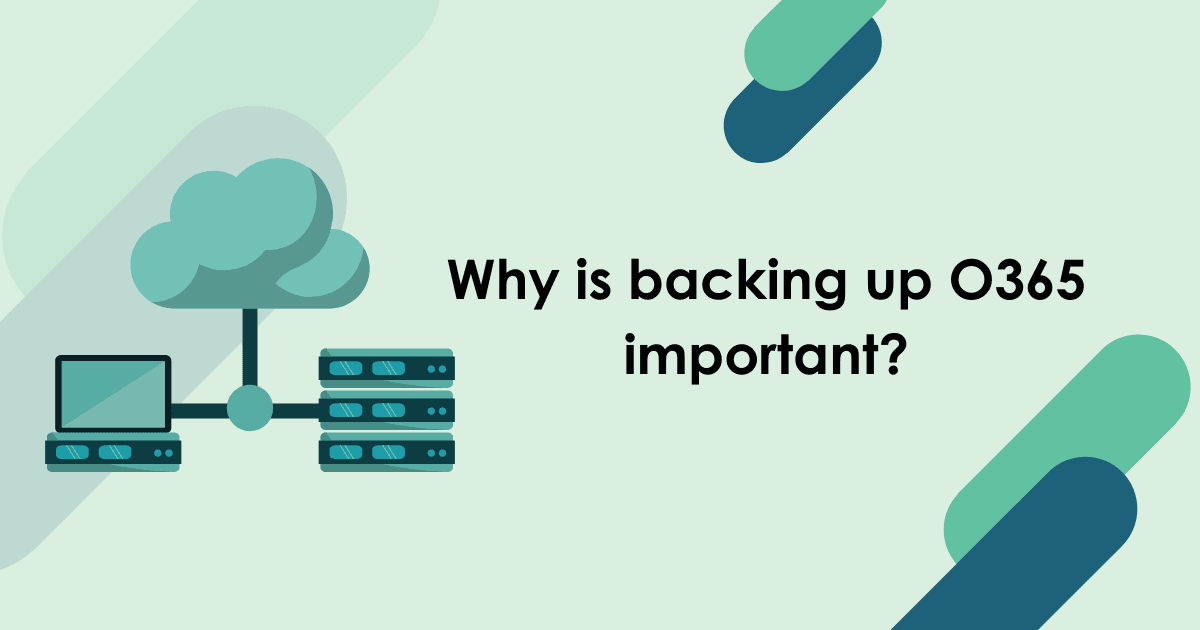 In the cloud, data loss happens to
If you are using Office 365, you may be under the impression that your data is backed up, when in fact there is only a basic layer of protection to deal with some of the things that could damage your data. There are many risks to your data that O365's basic protection functionality doesn't protect you from, meaning Cloud backup should always be considered whether you are migrating to O365 or have been using it for sometime. Don't miss our webinar with Rowan Ridley from Skykick.
It's a common misconception that you can't lose data in the cloud. Be sure you backup your data.
Round up of the webinar
How can data loss can occur?
Accidental deletion
Software issues
Hackers
Malicious deletion
Where many people may believe that hackers and malicious deletion would account for the top reasons why data loss occurs but in fact it is actually accidental deletion makes up of 64%.
What are the implications of data loss?
If you are hit with ransomware you can be left with legal, financial and emotional impacts. Backing up data helps you to continue "business as usual" even in these circumstances. This is because the data the criminals have stolen and won't give back until you pay the millions in ransom, is accessible from your backup.
Possible implications of data loss:
£3,500+ is the predictable costs of data loss.(Skykick, 2019)
Under GDPR you can lose 4% of a companies total revenue
Loss of business and/or business downtime which could lead to bankruptcy. The implications of losing data for all functions can be catastrophic (including: Sales, Marketing, Support, IT). Could you deal with lost email or contacts for your biggest accounts? What would happen if your core/important documents were deleted?
What can you do?
Ensure you have the following:
Robust IT infrastructure in place
Patching regularly
Email filtering
Firewall
Anti-virus
When it comes to how you can improve, the things In your control vs. out of your control are numbered.
Hackers and software issues are in your control, in the respect that you can put up a variety of necessary Cyber Security prevention solutions but accidental deletions and malicious deletions are very much out of your control.
Microsoft only allows you to access deleted emails after a short period of time, so there's no getting it back if you don't back up. Something could easily be deleted, whether it's by accident or on purpose
"Knowledge is power." It really is. Educating your teams on what to look for when it comes to cyber security is one of your most effective measures. So that you, your team and your business doesn't fall victim to an attack, educating them on what to look out for in regards to scams is vital.
The limitations of Office 365
Although O365 has some means of backing up it does have limited data retention, which means your data is only retained for a limited amount of time which emphases the need to back up.
What it covers:
Deleted data that is restored before the retention limit expires:
Exchange Online = 14 days
SharePoint & OneDrive for Business = 180 days
Office 365 Groups = 30 Days
What it doesn't cover
Data that is not restored within the retention period
Corrupted or encrypted data
Malicious permanent deletion of data
"There is usually 140 days between deletion and detection"
With this in mind, you usually don't know its gone until it's really gone so there is a huge stress on needing to backup especially when just using office 365 doesn't things like corrupted, encrypted or malicious permanent deletion of data.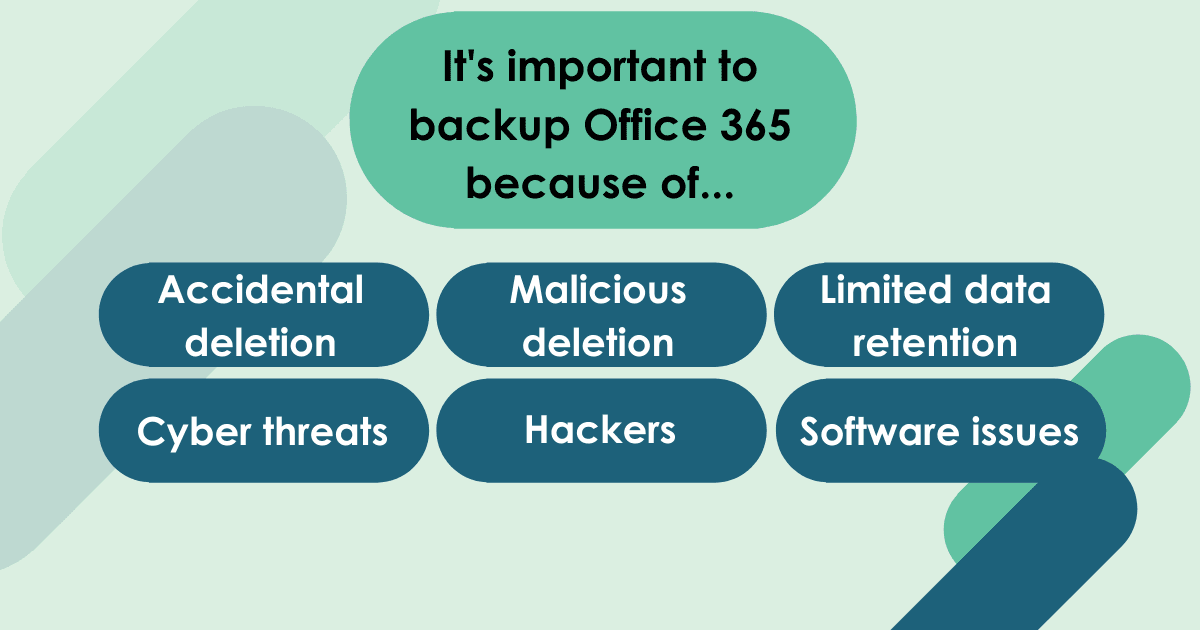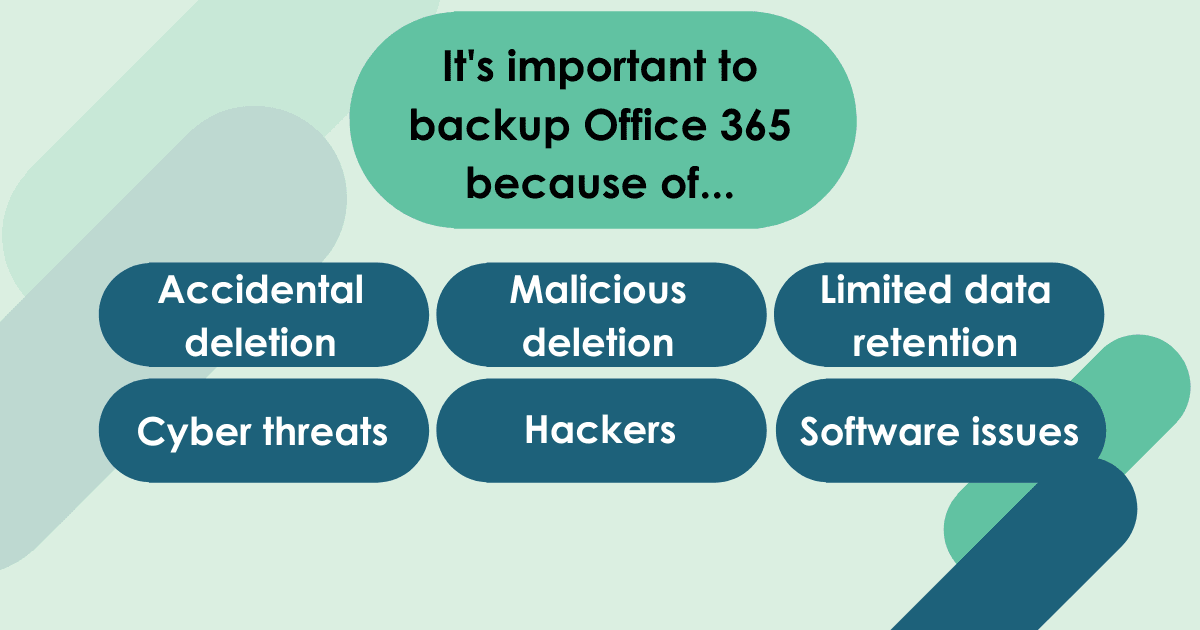 Complete I.T. Cloud Backup
100% Cloud to Cloud Backup: from Office 365 to Azure
Easy Setup: Nothing to install, very fast indexing and configuration. Start backing up immediately
Unlimited Storage & Retention: up to 6 backups per day, data can be stored for a defined period or indefinitely.
Simple Pricing: No rising costs from increased data, you pay per user and get unlimited retention
Auto-discovery: Mailboxes, Public Folders, SharePoint site collections, OneDrive for business, Groups, Teams, Modern Sites
Auto-enable new users:No risk of missing data when users are added to O365
Quick Restore: Emails, Calendars, Tasks, Notes, and Entire Mailbox, SharePoint & OneDrive for Business files, Groups, Teams, Modern Sites,
Choose Azure Storage:Choose your own Datacenter location or BYO Azure if you prefer
Privacy is important: GDPR Compliant, HIPAA and EU Privacy Shield certified
If you would like to discuss Office 365 backup, contact us today.