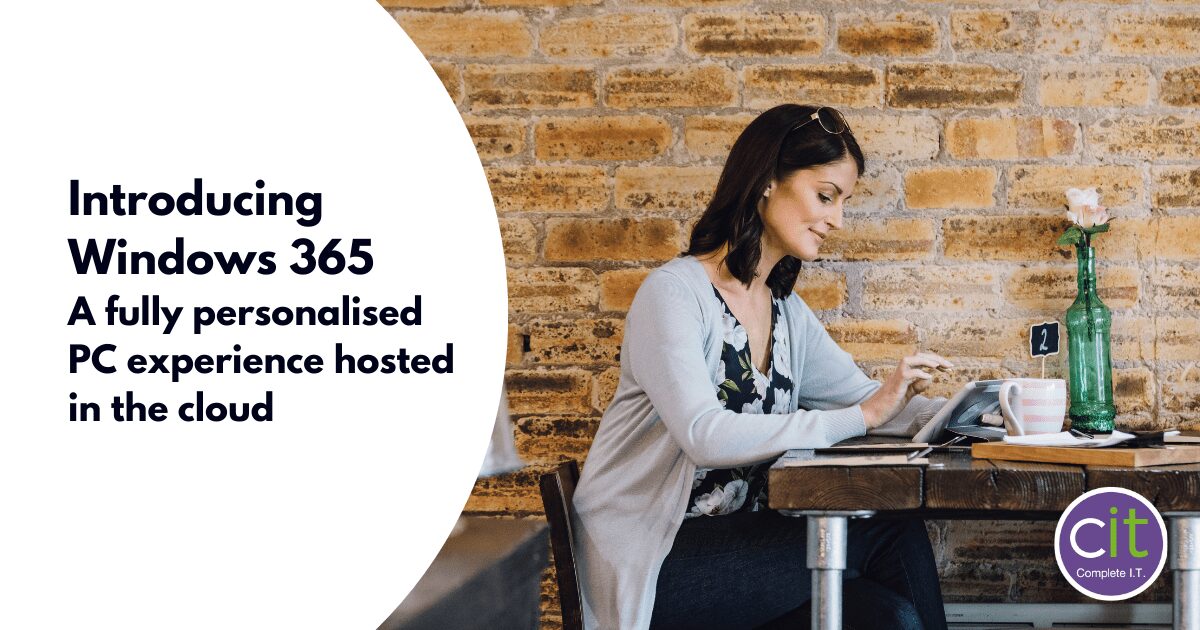 Microsoft have recently announced that they will be launching Windows 365, a cloud service that will introduce a new way of working using Windows 10 or Windows 11 (when it becomes available). Windows 365 will give your teams a fully personalised PC experience hosted in the cloud, on any device. A simple solution with full security features, enabling hybrid working.
Windows 365 utilises the Microsoft cloud, streaming the full Windows experience, apps, data and settings onto personal or business-owned devices. Your business data will be stored in the cloud, not on devices, meaning you have full control and if a device were to be lost or stolen you can rest easy knowing that there is no sensitive business data stored on any device.
The Microsoft cloud has full security by design features although we still always recommend a multi-layered approach to cyber security, this goes a long way to giving you peace of mind that your data is secure.
Windows 365 represents a new way of working as organisations big and small start to introduce permanent hybrid working policies and look at the best ways to enable their teams to work from any location as if they are in the workplace.
"With Windows 365, we're creating a new category: the Cloud PC," said Satya Nadella, chairman and CEO, Microsoft. "Just like applications were brought to the cloud with SaaS, we are now bringing the operating system to the cloud, providing organisations with greater flexibility and a secure way to empower their workforce to be more productive and connected, regardless of location."
The challenges Windows 365 overcomes
We have faced challenges when it comes to hybrid working for many years, with many of these being pushed to the top of our business priorities due to the pandemic. Our teams need the flexibility to be able to work from anywhere, whether that is a salesperson who travels to meetings across the country and needs access to business systems whilst on the road or a recruitment consultant who spends the majority of their time working from home. We all deal with sensitive data and need the assurance that it is secure no matter where we are.
If you have workers who use personal devices, Windows 365 gives you the peace of mind that there is no business data being stored on the device and means you do not have to go through vigorous processes and take the time securing all personal devices.
Powerful, simple and secure
Windows 365 builds on the power of the Windows operating systems and the reliability and security that the cloud gives us.
Powerful: Users will have instant access to all of the apps and tools they need to succeed in their roles via the cloud on their devices. Scalability is also a key consideration; with Windows 365 you can easily scale up or down as your organisation changes adding or removing licences and storage. Whether you use Windows 10 or 11 (once available later in 2021) you can choose the Cloud PC that suits your business needs with per-user per-month pricing.
Simple: With a Cloud PC your teams can use multiple devices, picking up where they left off. Deployment, updates and management is simple, unlike other solutions, Windows 365 doesn't require any virtualisation experience. Cloud PCs will be managed through Microsoft Endpoint Manager, in exactly the same way that physical PCs are. Microsoft is also continuing to develop Windows 365 for Azure Virtual Desktop for those organizations with deep virtualisation experience that want more customisation and flexibility options.
Secure: Windows 365 is secure by design, leveraging the power of the cloud and the principles of Zero Trust. Information is secured and stored in the cloud, not on the device. Always up to date and building on the strength of rich Microsoft security capabilities and baselines, Windows 365 simplifies security and recommends the best security settings for your business.
When will Windows 365 be available?
Windows 365 becomes available on the 2nd August
What is Zero Trust?
When we talk about Zero Trust, we mean an approach taken by organisations to eliminate the concept of trust, helping to prevent successful data breaches.
What is a Cloud PC?
Cloud PC is a new phrase used when your whole computer is running in the cloud, giving you access to everything you need to work successfully from any device.
What is security by design?
Security by design is an approach to cyber security that formalises security from the outset of any new product development. Security is built into the solution and has been a key consideration throughout, automating security controls and streamlining auditing.