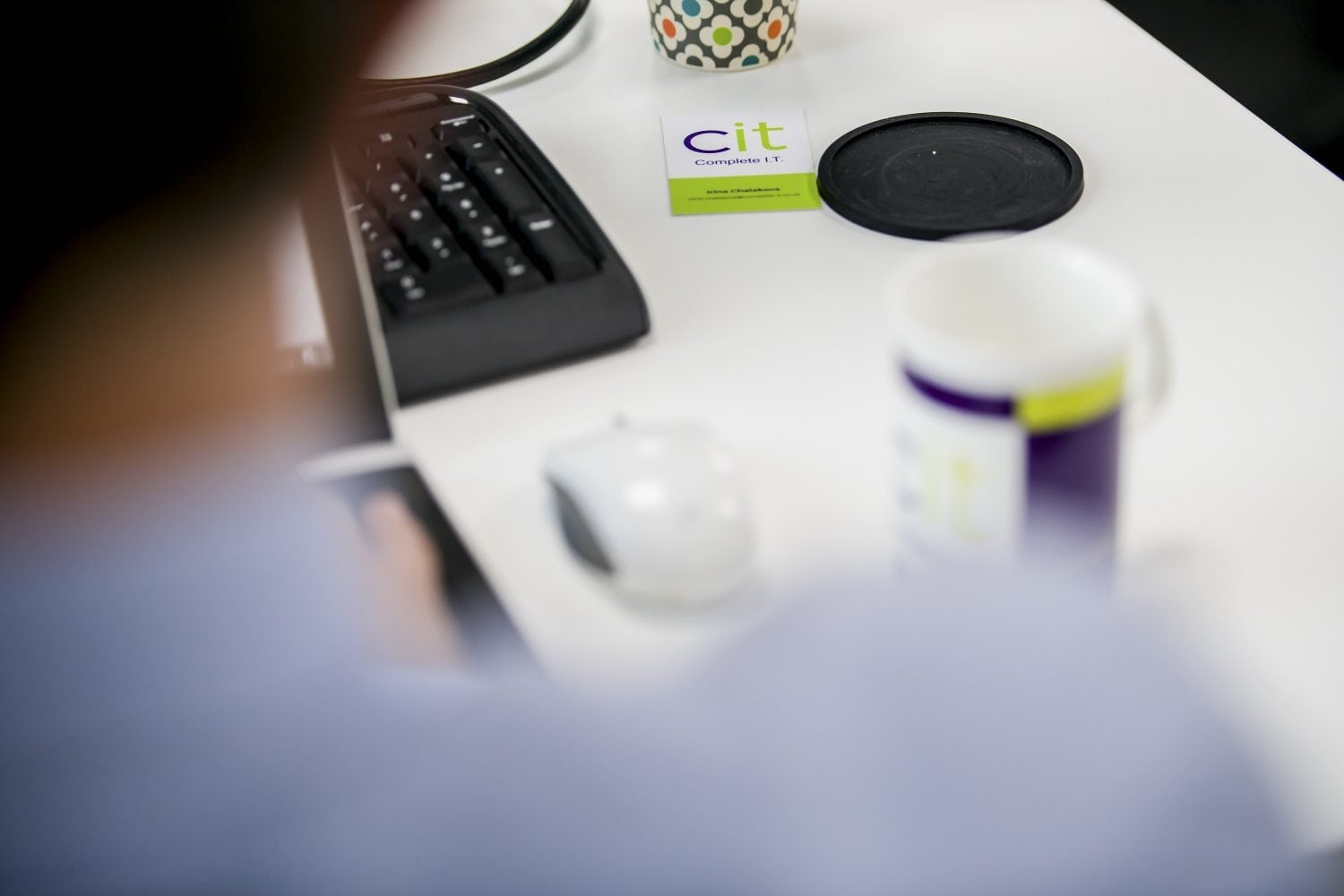 Choosing whether to outsource your IT support or keep it in-house is a difficult decision for any business. Drawing on our 25 years' worth of experience providing award-winning IT support services, we have pulled together this list of reasons as to why you should consider outsourcing your IT support instead of hiring a full-time employee. We also look at some of the risks, and how Complete I.T. can mitigate these for you. Don't fancy reading much? See the infographic instead.
Benefits:
1: Cost
For most SME's, having a designated IT Manager is something that they simply cannot afford. With an average salary of approximately £50,000, hiring an in-house IT Manager takes away a large chunk of budget that could be better spent elsewhere on core business processes. On top of salaries, you must also consider associated company benefits, recruitment costs, and on-going training. Sounds expensive, right? Even if you take that position away you could still be left with huge unexpected costs during periods of downtime, with staff out of action and no one available to solve your issues.
With an IT support provider like Complete I.T., you will benefit from fixed monthly payments meaning you won't be hit by any unexpected expenses, allowing you to budget accordingly.
2: Recruiting
If you are an owner of an SME who feels like it's time to start getting some support with your IT, you may be thinking about your own internal IT employee. The problem here is not only the amount of time it takes to go through the recruitment process, but that if you are from a non-technical background, perhaps running a confectionary business, how can you be sure that the person you are hiring knows their stuff and can support your IT systems?
Using an outsourced support provider like us means that you don't need to worry about the lengthy recruitment process or costs associated with hiring your own in-house specialist.
3: Expertise
Your IT systems may work perfectly most of the time, and so hiring a designated IT manager for £50,000 may seem like a waste of resources. But what happens when you do have a problem? If you have a critical issue the chances are members of your team will lack the expertise to be able to solve them, resulting in heavy emergency support costs to resolve the issue.
With Complete I.T. Support, you will have access to a team of experts who hold a whole host of accreditations who you can call as many times as you like. Best of all? You don't need to hire an in-house IT Manager.
4: Filling in the Gaps
You might be an IT Manager reading this thinking we are trying to put you out of a job. We aren't. As well as fully managing your organisations IT systems, we can also work alongside an existing in-house team. Think of this – what happens if you (let's assume you are indeed an IT manager) are off sick, out at a training event or on holiday and your systems reach critical failure. Would there be anyone else in the organisation who could get your systems back up and running?
With Complete I.T. we can work alongside your existing IT department to provide support for when your team members are off sick or on holiday. We can also complement their existing expertise and give them a hand with any problems they need extra help with.
5: Time
Spending time on your IT systems can take your efforts away from your critical business processes, like serving your customers and looking after your staff. Oh, and all the finance, HR and operations duties. What would happen in your organisation if the printer stopped working? I'm sure in most companies a small team of your staff will set to work investigating, with not much of an idea of where to start.
Outsourcing your IT department means that you have the time to focus on your business and clients, leaving your IT systems to the expert. So if the printer were to stop working, all you would need to do is pick up the phone.
6: Proactive
If you already employ an in-house IT Manager or are thinking of hiring one, the chances are their support strategy will revolve around a break and fix set up – essentially a reactive strategy where problems are only fixed once they have come to fruition.
If Complete I.T. were to provide your IT support, you could rest assured that most problems that could arise will already have been taken care of before you even know they are there. With our proactive monitoring systems, we receive alerts each time something doesn't seem quite right on your systems and individual computers. This all helps massively reduce downtime to boost your organisation's productivity. Moreover, our Complete Monitoring systems ensure all software updates and installations are fully automated to help maintain your network integrity.
7: Innovation
As we all know, the IT landscape is always on the move and constantly evolving. If you are an SME who can't afford to employ an in-house head, how do you know which new technologies are available and which can bring added value to your business? Without access to IT experts, it is an incredibly difficult and risky process.
Unlike other support providers, we don't aim to provide a support service to fix things and let our clients get on their way, we want to fix things and make those things even better. We truly get stuck into to our client's business and work hard to understand their goals, digging deep behind the computer screens to understand how they aim to use IT. With our technical expertise, we are always on the lookout for the latest innovation that we seriously believe will make a wealth of difference to our clients, helping them to create a truly scalable business, armed with the latest technologies to help them achieve this.
8: Knowledge
As we all know, knowledge is power. Although hiring an in-house IT Manager brings a source of new technical knowledge to your organisation, it is indeed very limited.
A support provider like Complete I.T. work with lots of different organisations and have an IT support team that has a huge range of experience and accreditations, stemming from the work they do with lots of different clients solving a range of different problems. This comes in very handy for any business facing IT challenges – with our wealth of experience we can bring a host of new ideas to the table that a 1 man in-house team may not be able to. After all, 2 heads are better than one. Right?
Risks:
As with anything, there is an element of risk that can come with outsourcing your IT department. We will now look at some of the most common things we see, and how Complete I.T. can help to mitigate those risks!
1: Less control
When outsourcing your IT department, it is inevitable that sensitive information will need to be handled by the third-party support provider. When relying on an in-house team, you have a much better chance of knowing where this sensitive data is stored and how it is being handled.
Here at Complete I.T., we take data privacy and the recent GDPR very seriously, so much so that we have been running a Cyber Crime Essentials series to arm our clients with the knowledge they need to ensure their data is safe and that they comply with the new regulation. This series has been running in tandem with the government backed Cyber Essentials Scheme – a scheme to help organisations protect themselves against common online threats. Organisations can be Cyber Essentials accredited through a self-assessment process, following the steps outlined by the scheme.
We hold a Cyber Essentials PLUS accreditation – this includes all the assessments for the Cyber Essentials certification, with an additional internal scan along with an on-site assessment. This means that you can rest assured we have the correct procedures and systems in place to keep your data safe while taking care of your IT support needs.
2: Complex needs
You may feel like your IT systems are unusually complex, making it difficult for you to begin your outsourcing journey.
This is something we see frequently and have procedures in place to put your worries at ease. The first stage of outsourcing your IT to Complete I.T. is for us to undertake a system review so we can fully grasp what systems are in place and how you use them. We will then sit down with you to present our review, outlining what services we feel your business will benefit from. We don't leave it there though – we will work hard to provide you with an IT roadmap outlining what areas of your systems need work doing to them to support long-term planning.
3: Location
Location plays a huge part in IT support. Organisations looking to outsource their IT department are often wary about where their support provider would be based. Some of the most common worries we hear are things like distance and accessibility – "How easy would it be for Complete I.T. to make on-site visits should the issue require it?".
We should probably mention here that it's not unusual for us to turn down business. It might sound counterproductive, but for us to be able to offer the standard of service and support we strive for, if prospects are more than an hour away from one of our offices we will not agree to support them. Oh yeah, we nearly forgot – we have offices in High Wycombe, Swindon, Bristol, Peterborough and London.
So there you have it. A run-down of the rewards and risks of outsourcing your IT department. The conclusion? Risks can be mitigated; rewards can go amiss. If you have any more doubts or worries regarding outsourcing, please don't hesitate to contact us today.