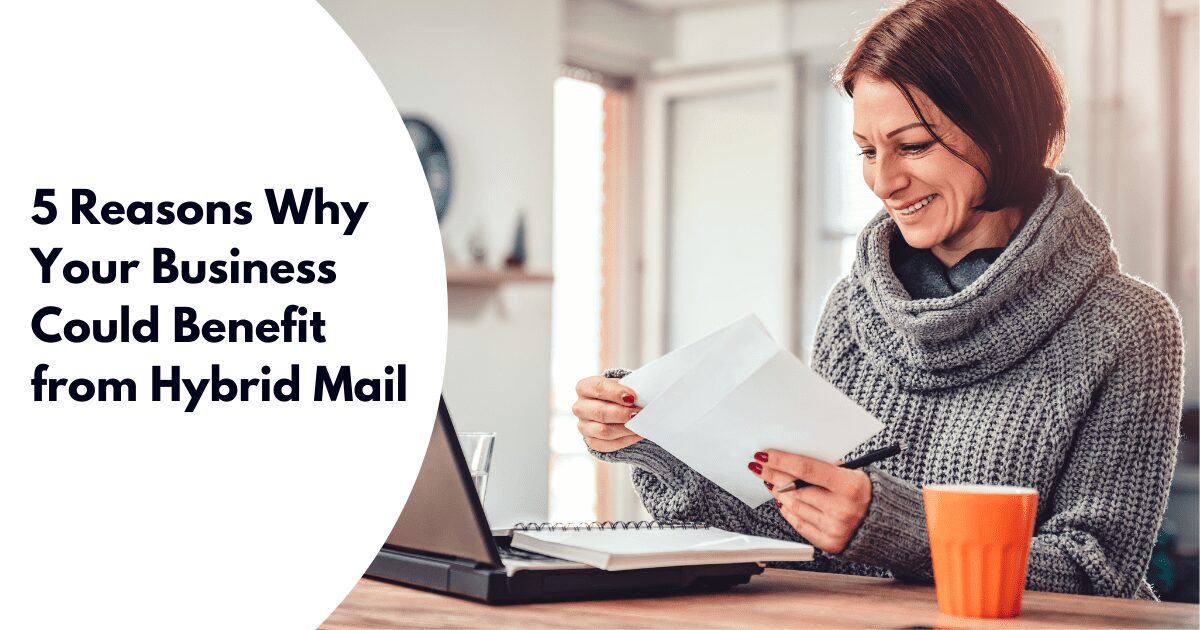 Do you ever find your business is spending too much time and resource sending out mail? Sending mail can seem simple but when there's 100s of letters to send, it can become overwhelming and take focus away from the core business. If this is a familiar situation for your business, you may want to consider Hybrid Mail, an online mail management solution designed to take away the pain points of manually sending traditional, physical mail. Keep reading below to learn about the top 5 ways your business could benefit from Hybrid Mail.
It Saves Time
Time is valuable in every business so finding ways to automate otherwise time-consuming, manual tasks will instantly add value to your business. Hybrid Mail allows you to streamline your mail plan by automating some of the processes for you. Normally staff need to buy and organise printing supplies, then print, pack and add addresses to envelopes before finally waiting for collection or travelling to the nearest post office to drop off mail. With Hybrid Mail all you need to do is upload the document and address details, choose preferences and delivery options and then the rest is taken care of!
It Saves Resource
By saving time you're also saving staff resource. The staff that would normally carry out the process of manually sending mail can now focus their time on more productive, business critical tasks. Hybrid Mail is also more reliable and less prone to error with addresses being checked and validated by the Royal Mail. With Hybrid Mail, despite having less involvement in the manual tasks, staff have even more control and visibility than they would with the traditional process. The management and reporting tools allow staff to check the status of orders at any time, see when they've been posted and 'completed' and even consolidate mail from different departments and schedule delivery dates, all with the click of a button!
It Supports Remote Working
In the past year we have seen many businesses move to a remote working set up and many organisations have noted and are now embracing the benefits of flexible, remote working. Hybrid Mail fully supports the remote working environment as you no longer need to be tied down to a physical office to access all the printing supplies and equipment required to prepare mail to be sent out. To use Hybrid Mail, all you need is a computer with an internet connection meaning you can send professional, on-brand mail from any location.
It's Secure
Security is an important component when looking at business solutions where you'll potentially be sharing confidential or private information with a third party. With Hybrid Mail, all messages are encrypted to protect the contents and are sorted in a secure production facility, so you can trust that all the measures have been put in place to keep your data secure and help your business stay legally compliant with policies such as GDPR (General Data Protection Regulation). There is also the option to use the returns management system to ensure that any undeliverable letters are returned so you have the added peace of mind that data won't end up in the wrong hands.
It Saves Money
When you think about all the different costs involved in printing and posting mail, they quickly start to add up. Ink and toner, paper, envelopes, printing equipment, postage and staff time are all at the expense of the company. However, you can easily reduce these individual costs by up to 60% with Hybrid Mail, only paying for what you use. As the addresses are validated by the Royal Mail before they're sent, any that aren't correct won't be delivered or charged for, so there are no unexpected costs.
Looking for IT support in Oxfordshire? Contact us here!
Are you interested in other workplace solutions to help increase productivity and efficiency? Learn about Optimised Visitor Management Here